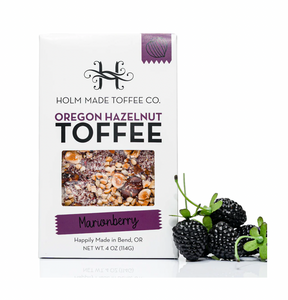 What's more 

Oregon

 inspired than 

Marionberry Hazelnut Toffee

?! We couldn't think of anything better, so we just went with it! This delectable combination of two of Oregon's famous produce items (not to mention state nut and berry), will be sure to have you finish a whole box in one sitting. Our staff loved the mixture of both white and dark chocolate, with a colorful 

pop

 of the freeze-dried marionberries on top. Try this 

all new

 crowd pleaser!

The toffees contain no gluten, no soy, no corn syrup and no preservatives. It's Happiness. Plain & Simple! Each box contains 4oz (114 g) and is made with high quality, locally sourced ingredients. 
Made in United States
About the Brand:
We put a little bit of happiness into every box of Holm Made Toffee. That's our promise. We've been crafting artisan toffee for over 30 years and we plan to do so for generations to come. Every batch is handmade utilizing Oregon grown hazelnuts and ingredients sourced from around the Pacific NW.