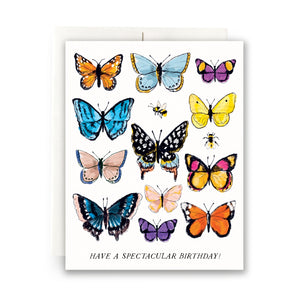 Send someone a note wishing them a Happy Birthday with this butterfly greeting card. It features full color print,  blank interior, and cream envelope. Card is standard A2 (4.25x5.5).
Made in USA.
About the Brand:
Antiquaria is made up of strangers turned friends, Emma and Bailey. Bailey is a calligrapher and teamed with Emma, an illustrator to launch Antiquaria, an Austin, TX based stationery company.
Photos and description courtesy of Antiquaria.